As an event organizer, there's a lot of stuff that you have to manage before, during, and after the event. Keeping the numerous arrangement related tasks aside, attendee management is a critical part of the job. In addition to maintaining registration records, physically checking in every present attendee and making sure the right speakers make it to the right rooms are just some of the real-time things that an event organizer needs to handle. And needless to say, without a proper system in place, things can get pretty chaotic easily.

Help comes in the form of automated systems for handling the different operations. Among the various such systems most event organizers use are Event Badge Printing systems.

Event badge printing is one of the most important activities during an in-person event. With personalized attendee badges allocated to every individual, not only do event organizers find it easier to keep track of attendees, they can take care of check-ins automatically and track each attendee as and when needed. And not just organizers, event badges are helpful for attendees too who can spot others by their names, designations, and organizations to break the ice and start conversations. If the event is sponsored, event badges offer benefits to sponsors too who can use badge scanning to save attendee information in their records and follow up later to see if they'd be interested in purchasing their products or services.

When event badges are so powerful and can serve such multi-dimensional purposes, why wouldn't you want to use them for your upcoming event! But you need to be careful while picking the ideal design for the badges and also selecting the underlying tech to support scanning and check-in.

Eliminate all hassles with Bitpod Event's Badge Design and Printing. With a full bunch of helpful features at your disposal, you can take care of not just badge design and printing, but event check in, scanning, and a lot more.

Let's explore some of the cool things that Bitpod Event Badge Design & Printing allows you to do.


Badge Templates

A lot of work goes on behind the scenes before a badge design is finalized. Every event organizer wants the event badges to look appealing since it uplifts the brand value among stakeholders. As such, every single detail like the placement of the logo, barcode or QR code, attendee name, attendee type, organization name and event name is handpicked and arranged before it makes its way on the badge.

With Bitpod Event, all of this becomes seamless. Multiple inbuilt badge templates let you pick the design that matches your brand's style to the letter. Once you've selected a template, the system will automatically generate badges for registered attendees.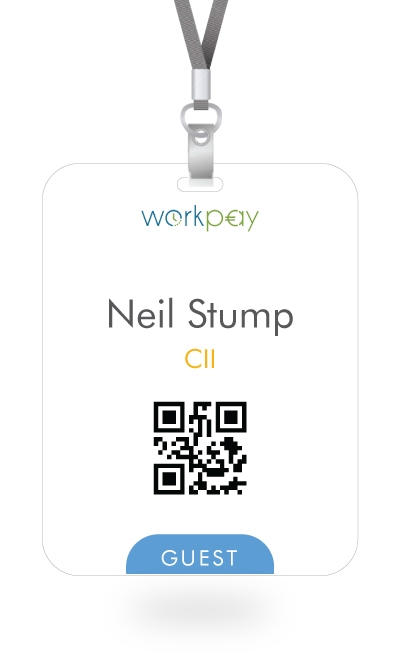 Not satisfied with the existing badge templates? No worries! Bitpod Event lets you design your own specific badge template according to the brand image that you want to portray. A rich set of design tools let you pick the exact color, background, fonts and shapes you prefer. When you have your template ready, you can save it to your account for future use as well.


Badge Printing and Check in

When an attendee arrives at an event, check in is the first thing they have to do before entering or participating. Event check in can be self-service through a dedicated counter, or the organizers can designate specific staff to assist the attendees with it. Once checked in, every attendee's personalized badge is printed using specialized badge printers, and the attendees must then hang their badges around the necks or stick them on their shirts in such a way that they're clearly visible to others.


Badge color for different attendee types

Remember we mentioned that event badges help people spot like-minds at an event? Well, color differentiation is one way to achieve this. By allocating differently colored badges to people with different experience levels (or as per any other criteria of differentiation), you can help attendees easily identify their counterparts across organizations. This further assists them with breaking the ice and initiating conversations that open up opportunities.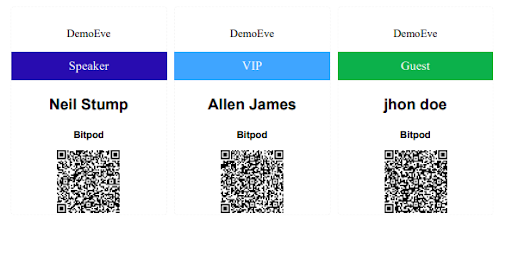 RFID or NFC Badges

Nothing speeds up event check in like RFID badges. Badges equipped with this tech simply have to be waved in front of the scanner to be checked in. One beep, and the information on the badge is auto-tallied with the registration data to verify attendees. This eliminates the need for manually checking and marking attendees as present. Not only is it practical for multi-day events, but it also does away with the need to train the staff to handle event check in.


Barcode or QR codes for scanning

With Bitpod Event's inbuilt barcode and QR code scanning feature, you don't have to procure a specialized barcode scanner for your event's badges. In this respect, this event management software is a one-stop hub for taking care of badge related activities. Design, print, scan, manage check in, and follow-up with attendees using a single interface!


Digital badge

Want to be more environment friendly? Try Bitpod Event's digital badges. The software enables you to issue digital copies of badges to each attendee which they can display to the event staff on their smartphones during check in. Alternatively, you can include a QR code in the digital badges which attendees can scan to register their presence.


Add the competitive edge to your events

Needless to say, with feature-rich tech powering Bitpod Event's Badge Design & Printing, you can ramp-up your in-person events by giving attendees a chance to amplify their engagement. By letting them know how they can seamlessly gel with industry experts and peers with this technology, you can create anticipation among the audience and ensure huge attendance.

Find out more about Bitpod Event features here.