Ever since the pandemic hit, there's been a drastic paradigm shift in the way people work and collaborate. More and more organizations have started looking for digital ways to exchange ideas, connect with clients/sponsors/audience, and analyze their reach. Popular market statistics indicate that almost 55% event organizers plan to invest more in virtual events by 2021.

But with challenges like poor connection, lack of attendee engagement measures, and messy speaker management, achieving the desired success metrics can be tough. Additionally, many leading virtual event platforms often get too complicated to work with, especially when the scale of an event is pretty large.

Bitpod Event presents a worthy solution to all these problems by offering a one-stop interface where you can plan and execute near perfect virtual events, and that too, without any hassle. And with the launch of live streaming and video conferencing capabilities, we hope to provide a wholesome event planning experience to enterprises and individuals aiming to reach their audiences better.

Allow us to introduce you to the key highlights of the newly launched features.


Attendee Lounge

The attendee lounge is the central area of activity for any event. This is where event attendees can find all relevant information about what sessions are planned on the agenda, who the speakers/moderators are, how they can join, and much more. With Bitpod Event, all the information is neatly laid out in dedicated panels in the sidebar. There are one-click panels for joining the various sessions, connecting with speakers one-to-one, entering the expo, and a lot more. The best part about the entire setup is that it's extremely easy to follow even for someone who's never used such a virtual event tool before.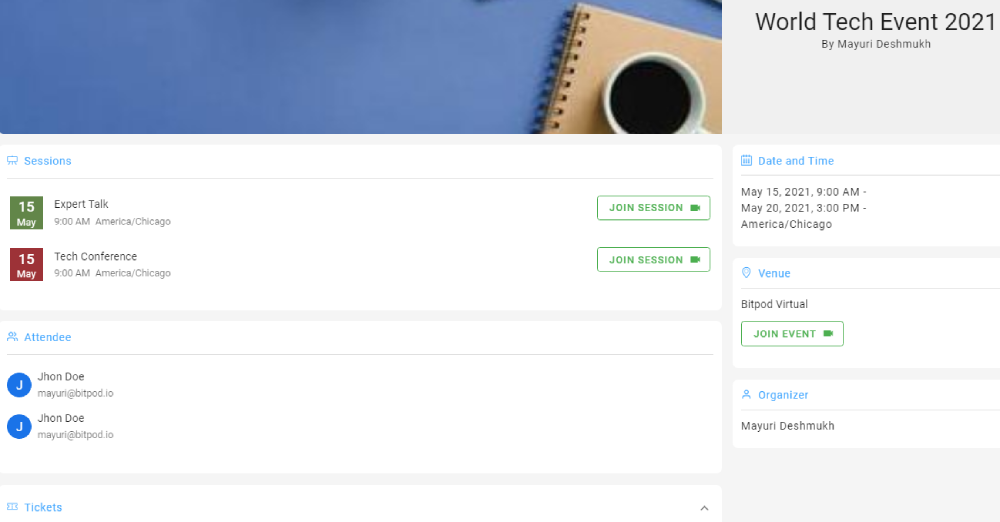 Sessions

Bitpod Event's session management feature lets you create as many dedicated sessions for different speakers as you want. You can grant a single-click entry to hundreds of attendees at the same time and eliminate all the hassle. With auto-scaling inbuilt into the platform, you can live stream your address to a large number of participants who can chat, share files, and send reactions easily to maximize collaboration and engagement. Moreover, Bitpod Event allows speakers / moderators to share their screens conveniently and ensure that all the attendees see what they want them to see.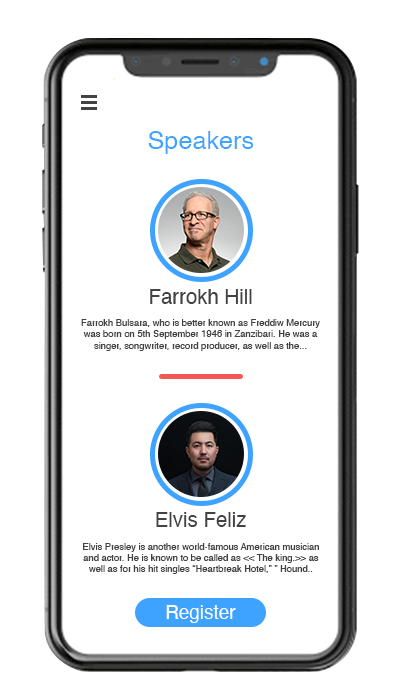 Networking

A significant part of an event is meeting people in person. With Bitpod Event's dedicated 'Networking' feature, you can connect with any speaker or attendee with a single click. As an organizer, you can set up networking rooms for dedicated audience groups (attendee to attendee, speaker to speaker, or attendee to speaker) and eliminate the hotchpotch. Equipped with high-definition video conferencing support, this kind of one-on-one interaction can be a great way to boost your professional network and grab opportunities.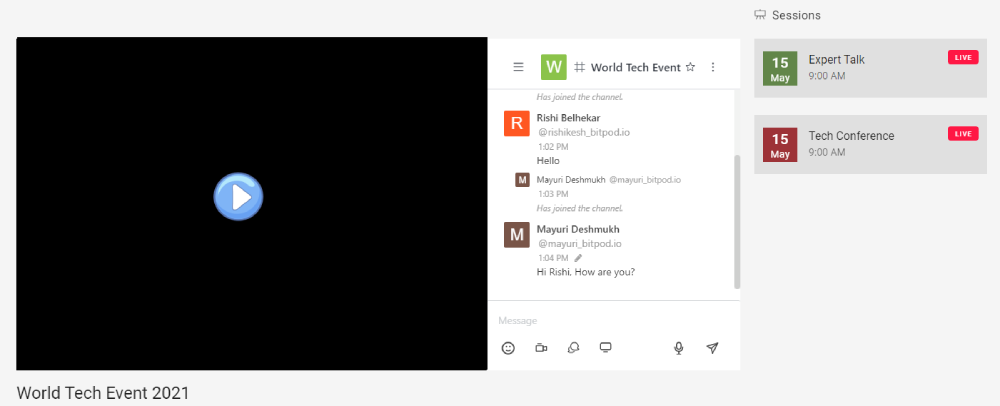 Expo

Bitpod Event's Expo feature lets attendees see the different booths at the virtual event, and click on any of them to learn all the information that the organization wants to share. Creating such booths is utterly simple with the platforms' intuitive interface. You can give as much information about an organization as you want through such a booth, and also offer special attractions to the attendees to spike their interest. Any number of attendees can visit such booths without worrying about swarming crowds.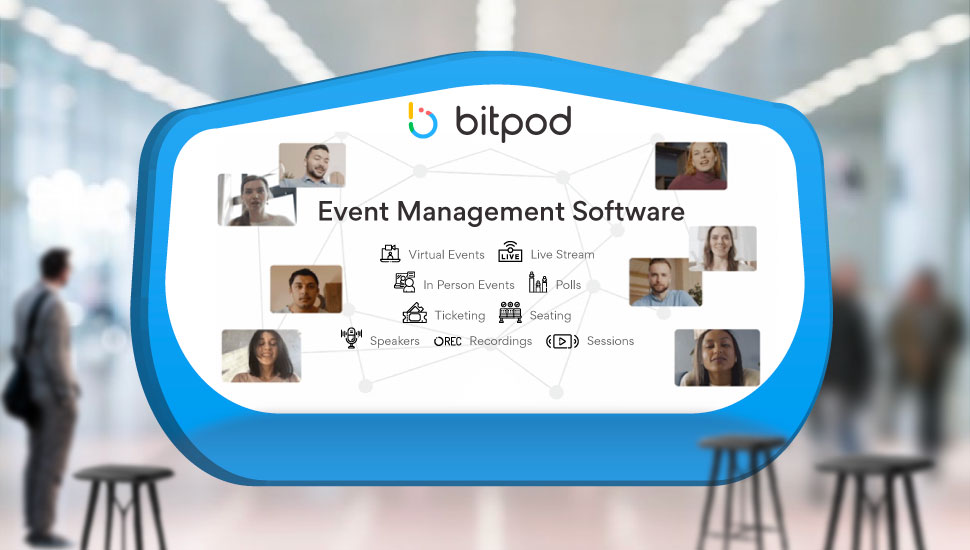 Live Streaming & Recording

When hosting a public event where the number of attendees isn't pre-known, a live streaming feature can be especially beneficial. Much like 'Live' sessions hosted by leading social platforms, this capability lets you put your point across to a wide audience without distractions. As for the attendees, they can react to your address through comments as well as ask their questions when needed. If an attendee cannot be a part of your live stream when it's happening, they can also choose to record the session and watch it later. As the organizer, you can enable the recording facility for your live stream with Bitpod Event.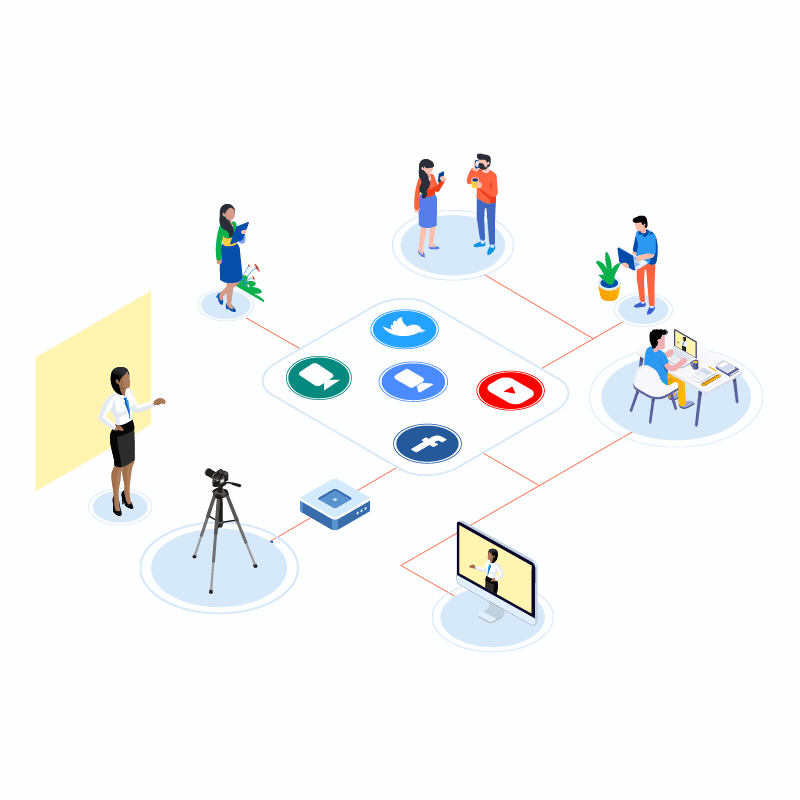 Attendee Engagement

With Bitpod Event's attendee engagement options, you won't feel restricted when it comes to knowing your audiences' responses in real-time. The attendees will have the option to 'raise their hand' through a convenient button which will let you know when someone wants to ask you a question. This kind of decorum, if followed with diligence, can make any virtual event a grand success. And there's more! As the organizer you'll have the option to mute everyone or remove someone from the session if things get too messy or noisy. What's more, you may create polls/surveys and ask your audience to complete them during the event to keep them engaged.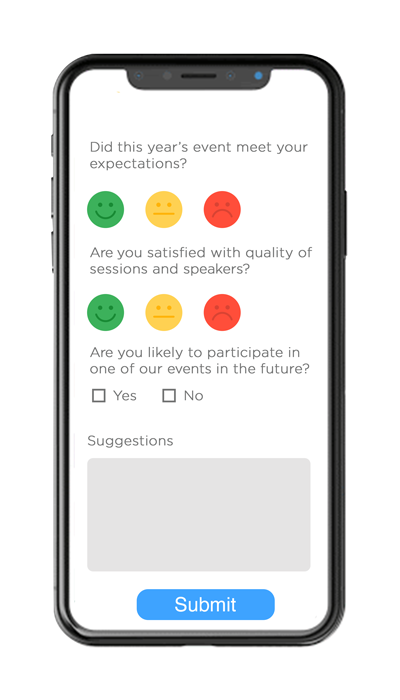 Attendee Tracking

Bitpod Event simplifies attendee tracking to a granular level. With a single-click, you can view an entire list of all the attendees at your event. You can even click on any attendee to view their camera feed or send a group message on the chat to share important links or additional inputs.


It's quite the package!

Overall, virtual events hosted with Bitpod Event are laden with quite a bunch of features that you can use to deliver a wholesome experience to your audience. With a whole lot in store for the future, you can stay assured that your corporate events will stand out if you have this platform by your side.

Find out more about Bitpod Event features here.